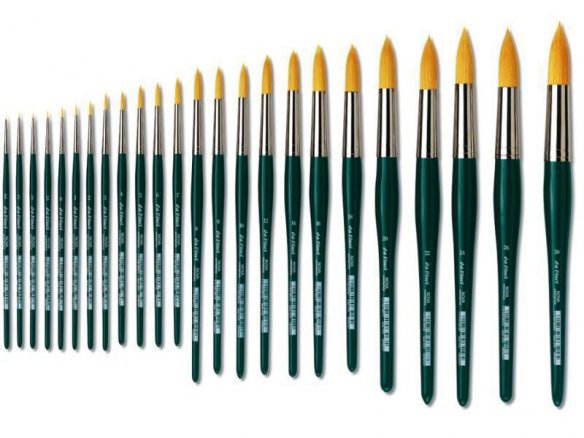 extra-fine gold coloured synthetic fibres, round, pointed, seamless silver-coloured ferrule (= drawn brass tube, nickel-plated); short wooden handle in a polished green finish, international size assortment, sizes 0/0-22, exposed bristle lengths 6 - 38 mm, total length is 175-275 mm, protective cap, w = diameter of the ferrule
The brushes in the Nova series from da Vinci, which have hairs that are extra-fine, stand out because of their elasticity and stability. In addition to watercolour painting, these multi-purpose and high quality brushes are also great for gouache, acrylic and oil painting techniques. They have proven to be also effective in graphic and retouching work as well as in model making, for silk painting or for use in schools.
The Da Vinci Top-Acryl paintbrushes are manufactured in sizes corresponding to international standards. The worldwide standardization of the terms used to describe brush sizes has meant that some of those given by da Vinci will be different. Further below you can download a size chart that shows three different systems in comparison: the da Vinci system, the international standard system and the English/American size system (from top to bottom).
Da Vinci Nova watercolour brush, round
18 Variants