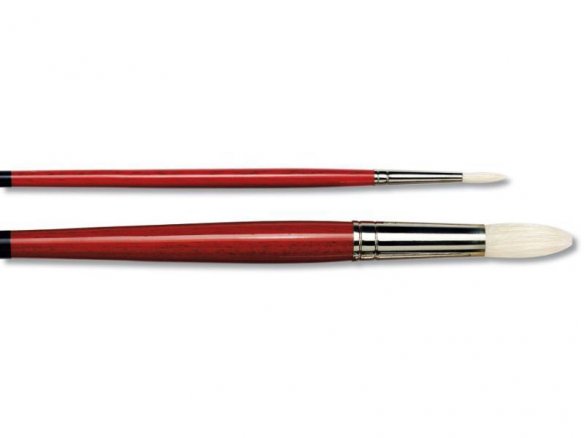 medium length boar bristles, deeply implanted brush-head, seamless silver ferrule (=drawn brass tube, nickel-plated); long, red and black glazed wooden handle, sizes 1 to 18, exposed bristle length is 11 to 37 mm, total length is 295-335 mm, includes protective cap, w = width of the ferrule
The Maestro2 series of brushes from da Vinci are distinguished by bristles that go far into the ferrule, whereby the "implanted brush-head" allows the wonderful attributes of the bristles to be completely realized in a sustainable way. This construction is essential if a brush is to be elastic, springy and have a long service life. The bristles of this flat brush are built into the ferrule in such a way that the natural curves of two equally sized tufts of bristle, which have matching levels of strength, are set against each other without tension and made to interlock. This produces the so-called "interlocking effect" which will be retained even after long and internse use.
The best and most well-known hog bristles come from China and Russia. They are distinguished by their robust structure, excellent elasticity and high degree of resilience. Bristles have a rougher texture than hair and the tips of the individual strands end in a so-called "flag", where it divides into many thin ends. This "flag" contributes significantly to the ability of a brush to yield a more even application without leaving grooves.
Da Vinci Maestro2 oil/acrylic brush, round
10 Variants