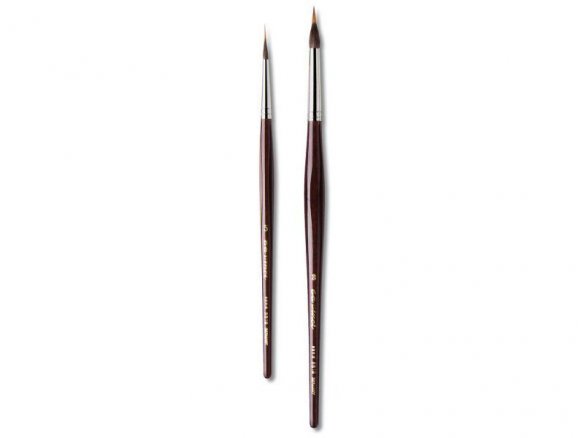 bound needle-sharp tip made of Kolinsky red sable hair, body of brush made of Kasan squirrel hair, seamless silver ferrule (= drawn brass tube, nickel-plated); short hexagonal wooden handle finished in bordeaux red glaze, exposed hair length is 21-24 mm, total length is 197-225 mm, protective cap, w = diameter of ferrule
This da Vinci liner brush is made up of a discrete, extra-long and needle-sharp bound tip consisting of Kolinsky red sable hairs and the brush body is made up of Kazan squirrel hairs that serve as a depot for the paint that has been taken up. Because the squirrel hairs have this high storage capability, this brush is especially good for making long strokes and lines. The long red sable hairs of this brush are bound - which means that the hairs are not only clamped into the ferrule but also bound with a tie. This is the sign of a quality brush!
Kolinsky is made from the tail hair of the Siberian red marten "mustela sibirica" (a large Siberian weasel) that mainly lives in eastern Siberian river landscapes. Kolinsky hairs have a natural tendency to stay in close proximity to one another and will retain this closed shape even when wet. Siberian red sable hairs are the the most valuable and efficient artist brush hairs that there are in the world. 
The body is made up of the extremely fine and soft tail hairs of a squirrel, but not just any squirrel. Only ones from Canada or Russia (Siberia) are used. They are not as elastic and durable as the Kolinsky red sable hair but do have the ability to take up and store large amounts of liquid: for this reason it is often found in so-called "mops" whereby this feature is put to its best use. The highest quality squirrel hairs are the blue and Kazan versions.
The hexagonal handle, which was developed by da Vinci, has from three to six flattened areas at its thickest point that will prevent the brush from rolling away. These flattened areas are so subtle that when the brush is being used not only will your hand not tire but they will also not hinder the turning motion necessary when shaping the brush tip.
Da Vinci liner brush, Kolinsky + Kasan hair, round
2 Variants