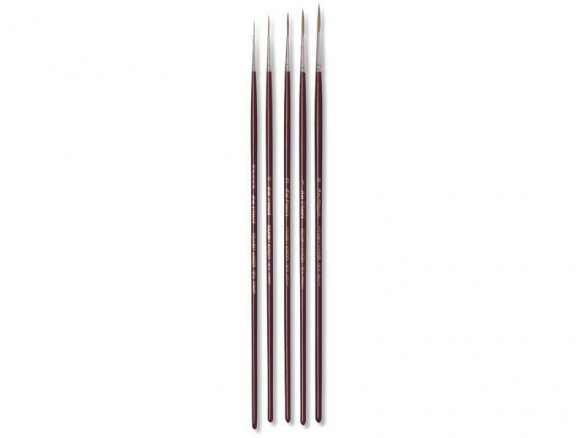 Kolinsky red sable hairs, medium long and bound into a point, seamless silver ferrule (= drawn brass tube, nickel-plated), long maroon polished wood handle, sizes 5/0-6, exposed length of hairs is 12-22 mm, total length is 300-310 mm, protective cap, w = diameter of ferrule
This da Vinci striper, which has especially long red sable tuft hairs and a sharp point, is great for script lettering and drawing fine lines, details, and decors with oil paints and most other artist paints. The long red sable fibres are able to take up a lot of paint so that even long line and lettering work can be completed without having to go back for more paint.
When working with poster or dispersion paints we recommend that you continually wash out the brush during your work in order to prevent a buildup of dry paint on the edge of the ferrule.
Kolinsky is made from the tail hair of the Siberian red marten "mustela sibirica" (a large Siberian weasel) that mainly lives in eastern Siberian river landscapes. Kolinsky hairs have a natural tendency to stay in close proximity to one another and will retain this closed shape even when wet. Siberian red sable hairs are the the most valuable and efficient artist brush hairs that there are in the world. 
Da Vinci Kolinsky striper, m. length,round,pointed
5 Variants