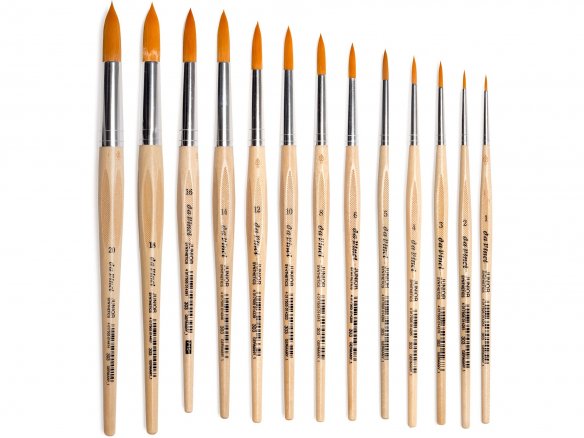 elastic gold-coloured synthetic fibres, seamless aluminium ferrule (= drawn aluminium tube), clear varnished hexagonal wooden handle, sizes 1-20, exposed hair length 9.5-35 mm, total length 180-235 mm, protective cap, w = width of the ferrule
The Da Vinci Junior is the traditionally used synthetic brush series for kindergarten and primary school painting lessons. The brush head is made of sturdy synthetic fibres and has a fine tip. This head holds its shape extremely well even when it is not used in the prescribed manner (couldn´t happen in a kindergarten!). The brushes can be used with opaque paints as well as for watercolour painting techniques.
The hexagonal handle, which was developed by da Vinci, has from three to six flattened areas at its thickest point that will prevent the brush from rolling away. These flattened areas are so subtle that when the brush is being used not only will your hand not tire but they will also not hinder the turning motion necessary when shaping the brush tip.
Da Vinci Junior Synthetics, school brush, round
13 Variants
1,60 mm
1,80 mm
2,30 mm
2,80 mm
3,30 mm
3,80 mm
4,50 mm
5,00 mm
5,50 mm
6,50 mm
7,30 mm
9,20 mm
10,00 mm
Accessories and Related Products