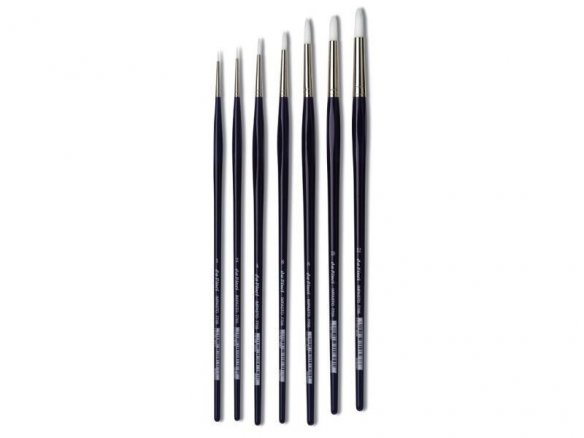 extra strong white synthetic bristles; short exposed bristles, seamless silver ferrule (= drawn brass tube, nickel-plated), long polished blue hexagonal wooden handle, international size assortment, sizes 1 to 12, exposed bristle length is 7 to 22 mm, total length is 290 to 320 mm, protective cap, w = width of ferrule
The Impasto artist paintbrushes with their extra strong and elastic synthetic "bristles" (see "more info") are best used with pasty acrylic paints and for working with gels and pastes.
The hexagonal handle, which was developed by da Vinci, has from three to six flattened areas at its thickest point that will prevent the brush from rolling away. These flattened areas are designed in such a way that when the brush is being used not only will your hand not tire but they will also not hinder the turning necessary when shaping the brush tip.
The Da Vinci Impasto acrylic paintbrushes are manufactured in sizes corresponding to international standards. The worldwide standardization of the terms used to describe brush sizes has meant that some of those given by da Vinci will be different. Further below you can download a size chart that shows three different systems in comparison: the da Vinci system, the international standard system and the English/American size system (from top to bottom).
Da Vinci Impasto acrylic brush, short, round
7 Variants