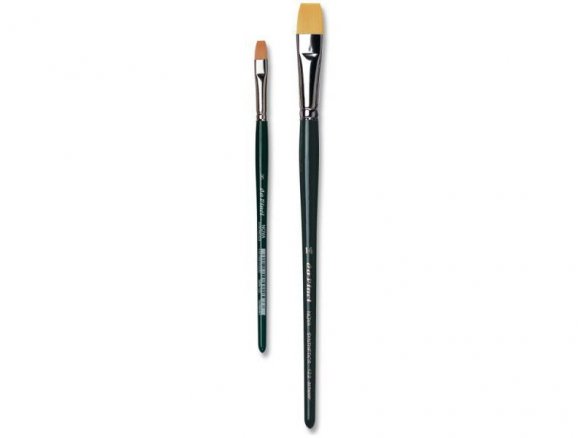 extra-fine gold-coloured synthetic fibres, seamless silver ferrule (= drawn brass tube, nickel-plated), short, polished greed wooden handle, sizes 1-16, exposed hair length from 6-19 mm, total length 170-220 mm, protective cap on sizes up to 12, w = width of ferrule
The flat Nova hobby paintbrush is a real all-rounder with synthetic fiber tip which has a high degree of elasticity and is just as great for use with acrylic and oil paints as it is with gouache and watercolour painting. The fine synthetic fibres hold the paint for a long time and release it in a constant amount - a feature particularly important when working with low viscosity paints. Its areas of application stretch from art and handicrafts lessons to model making and finally to body painting and artwork on textiles.
The set of 4 consists of three round brushes from the Da Vinci Series 1570 DA VINCI NOVA WATERCOLOUR BRUSH, ROUND and one flat Da Vinci Nova hobby brush from that series as well.
Da Vinci Nova hobby brush , flat
10 Variants