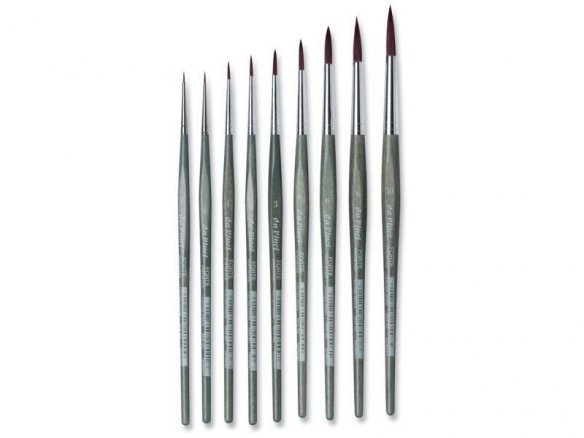 robust red-brown synthetic fibres, seamless aluminium ferrule (= drawn aluminium tube, highly polished), blue-green varnished hexagonal wooden handle, sizes 5/0-10, exposed hair length 19-21 mm, total length 190-200 mm, w = diameter of ferrule
The Forte Synthetics series of Da Vinci brushes are all made with very durable and long-lasting synthetic fibres that unite the attributes of bristles and hair. These brushes create a clean line or stroke edge and have a reliable brush tip. They are particularly suitable for painting with pasty paints and on rough painting surfaces like wood, cardboard, raw porcelain and ceramic.
The hexagonal handle, which was developed by da Vinci, has from three to six flattened areas at its thickest point that will prevent the brush from rolling away. These flattened areas are so subtle that when the brush is being used not only will your hand not tire but they will also not hinder the turning motion necessary when shaping the brush tip.
Da Vinci Forte hobby brush , round
9 Variants