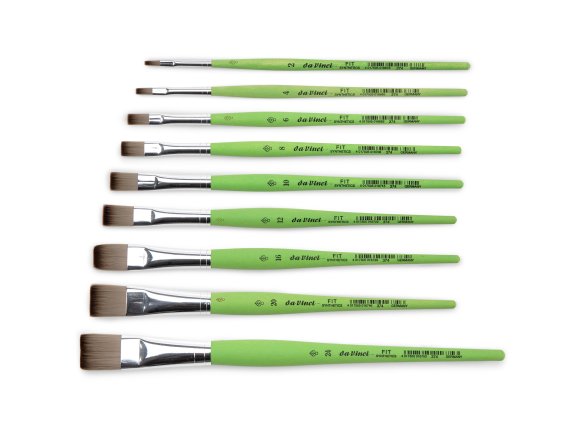 grey synthetic fibres, seamless aluminium ferrule (= drawn aluminium tube), matte varnished green wooden handle, sizes 2 to 24, exposed hair length 8 - 24 mm, total length 180-230 mm, protective cap. w = width of ferrule
These brushes manufactured for school and hobby use are - thanks to a newly developed synthetic fibre - able to hold their shape even under the most demanding conditions. In terms of painting proficiency and paint uptake these brushes are much better than the customary natural hair brushes while also being able to perform for a lot longer amount of time.
Da Vinci hobby brush Fit for School and Hobby,fl.
9 Variants
2,9 mm
4,3 mm
5,9 mm
7,6 mm
9,2 mm
10,9 mm
13,6 mm
16,4 mm
18,2 mm