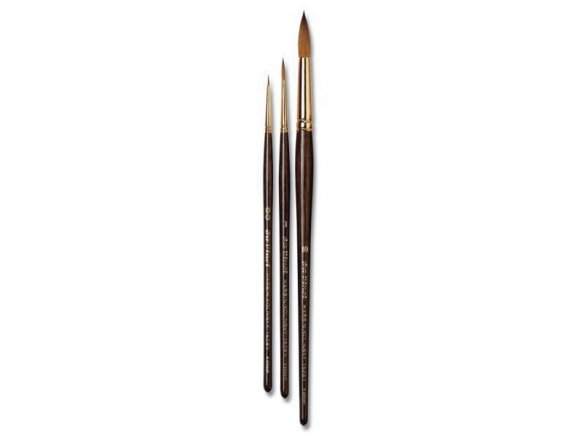 Harbin Kolinsky red sable marten hair, seamless gold-coloured ferrule (drawn brass tube, 24 carat gold-plating); short anthracite glazed wooden handle, sizes 3/0-12, exposed hair length is 6 - 30 mm, total length is 180-235 mm, protective cap, w = diameter of the ferrule
This high-quality watercolour brush made with red sable (technically weasel) hair has a lush hair body that has an uncanny ability to take up and release liquids (paints, if you will!). Kolinsky hairs naturally stay very close to one another and are able to retain their cohesive shape even when wet.
The tail hair of the red "sable" (mustela sibirica - a large Siberian weasel) is called Kolinsky because that´s the species´ name. Harbin-Kolinsky is named after the main city of the most northern region of Manchuria where this special weasel lives in the flood plains of the river bordering Siberia. The tail of this weasel is somewhat smaller than that of the Siberian weasel but its hair very firm, bushy, robust and very fine at the tip.
Da Vinci Harbin-Kolinsky watercolour brush , round
11 Variants