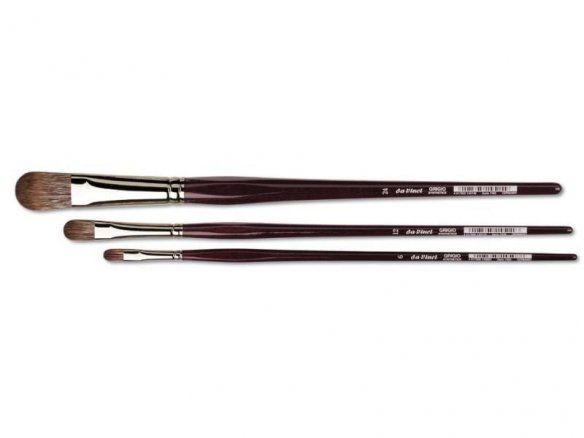 synthetic filaments with slightly rough finish, seamless ferrule (=drawn brass tube, nickel-plated), Bordeaux coloured hexagonal wooden handle, sizes from 6 to 20, exposed bristle length 15-37 mm, total length is 300-350 mm, w = width of ferrule
One of the disadvantages of synthetic filaments as compared to natural hair and bristles in paintbrushes is that the surface of the latter at the microscopic level has a roughness that is much better for holding paint than the completely smooth surface of the synthetic fibres. For its Grigio line, da Vinci has reworked the synthetic filaments to make them slightly rough and thereby closer to the features of natural bristles described above (paint uptake and holding capability). These brushes are particularly good for use with pasty acrylic and oil paints.
The hexagonal handle, which was developed by da Vinci, has from three to six flattened areas at its thickest point that will prevent the brush from rolling away. These flattened areas are so subtle that when the brush is being used not only will your hand not tire but they will also not hinder the turning motion necessary when shaping the brush tip.
Da Vinci Grigio oil/acrylic brush, filbert shape
6 Variants