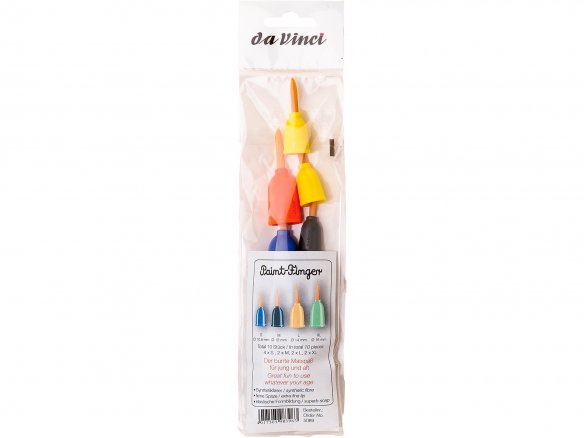 Brush for the fingers
Learn to play games
Giant painting fun for every age
Promote fine motor skills
For kindergarten, school, occupational therapy
Contents

4 Paintfinger size S, 2 Paintfinger sizes M, L and XL each

Cap diameter

10.6 mm diameter for S, 12 mm diameter for M, 14 mm diameter for L, 16 mm diameter for XL

Tip

fine, elastic synthetic fiber

Safety note

Not suitable for children under the age of 3 years
Especially children will love the Paintfinger because they look like Struwwelpeter ("Shaggy Peter") with his long fingers; also, with ten brushes, they can paint at the same time with all of them.
Put the hairy stubs on like a thimble, dab the brush tips in color, and just paint with them. Put it on a single finger, or every five or every ten. Dip each tip into a different color and try to paint with each brush individually. This brings movement into your fingers and also helps older people to mobilize their hands.
In addition to being fun, playful painting with finger-tips in people of all ages promotes fine motor skills, eye-hand coordination, and power training in fingers and hands. And on which finger was the green color again?
Da Vinci paint-finger set (5089), synthetic fibre, fine tip, ø 10 - 16 mm, 10 pieces