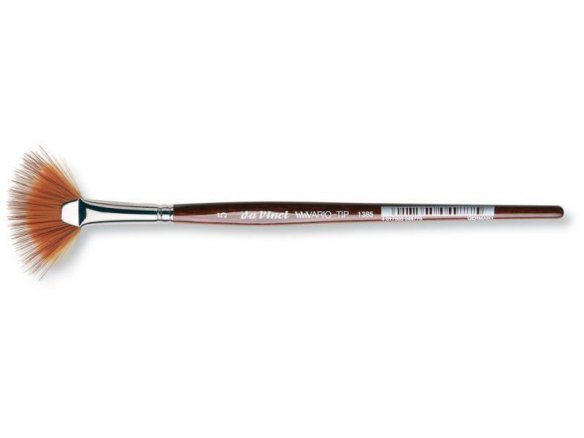 synthetic fibres of different thicknesses in graduated lengths, seamless silver ferrule (= drawn brass tube, nicke-plated); short, bordeaux red hexangonal wooden handle, exposed hair length 20 mm, total length 200 mm, w = width of fan
The Vario-Tip fan brush consists of synthetic fibres in different thicknesses and lengths that can form a variety of tips. They can thus be used to make representations of a multiplicity of textures such as fabric, leafwork, grasses, fur or clouds.
The finer fibres in the brush head mixture guarantee an excellent retention of low viscosity paints like aquarelle or acrylics, while the stronger fibres make it possible to form a fine tip for painting in high viscosity paints like oils.
The hexagonal handle, which was developed by da Vinci, has from three to six flattened areas at its thickest point that will prevent the brush from rolling away. These flattened areas are so subtle that when the brush is being used not only will your hand not tire but they will also not hinder the turning motion necessary when shaping the brush tip.
Da Vinci fan brush Vario-Tip, series 1385, size 5, w = app. 27.0 mm