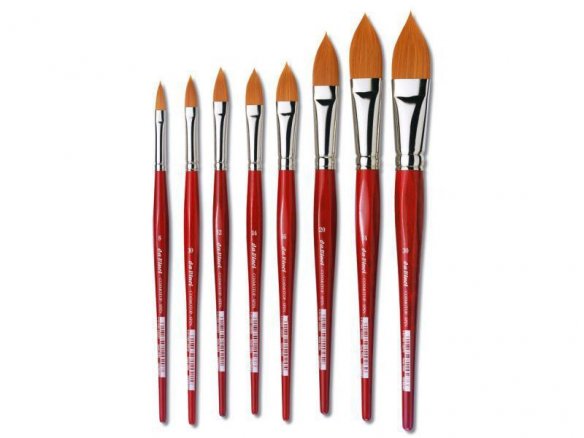 extra-fine light brown synthetic fibres, oval, pointed, seamless silver ferrule (= drawn brass tube, nickel-plated), red glazed hexagonal wooden handle, sizes 8 to 20, exposed hair length is 19-38 mm, total length is 225 to 255 mm, protective cap, w = diameter of ferrule
The very supple synthetic fibres that make up the tuft of the Cosmotop-Spin brush make it great for use in glazing and watercolour work. The soft synthetic hairs have outstanding spring and elasticity and the perfectly shaped tip provides an unusually good ability to absorb a lot of liquid. In addition to watercolour painting, the Cosmotop Spin can also be used for silk painting as well as for painting on glass.
The hexagonal handle, which was developed by da Vinci, has from three to six flattened areas at its thickest point that will prevent the brush from rolling away. These flattened areas are so subtle that when the brush is being used not only will your hand not tire but they will also not hinder the turning motion necessary when shaping the brush tip.
Da Vinci Cosmotop-Spin watercol. brush,flat,pointed
6 Variants