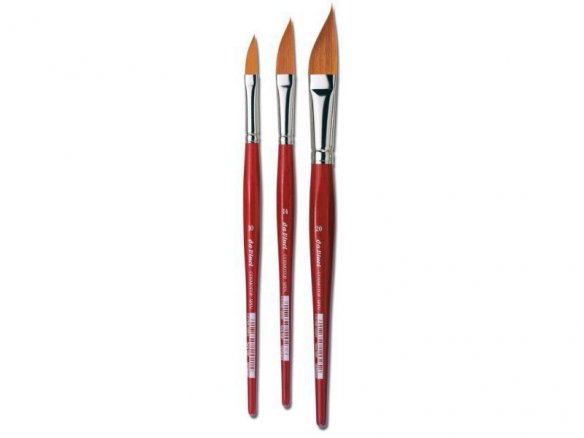 pure synthetic fibres, different thicknesses and lengths, angled; seamless ferrule (= drawn brass tube, nickel-plated); short red glazed hexagonal wooden handle, sizes 10-20, exposed hair length is 26-46 mm, total length is 236-273, w = width of ferrule
The flat and simultaneously angled (sword-like) shape of this da Vinci watercolour paintbrush enables different line variations to be made when painting with watercolours or doing silk painting. The fine sharp point is great for script lettering and drawing fine lines, details, and decors. The wide tuft is able to take up a lot of paint so that even long line and lettering work can be completed without having to go back for more paint.
The hexagonal handle, which was developed by da Vinci, has from three to six flattened areas at its thickest point that will prevent the brush from rolling away. These flattened areas are so subtle that when the brush is being used, not only will your hand not tire but they will also not hinder the turning motion necessary when shaping the brush tip.
Da Vinci Cosmotop-Spin sword striper
3 Variants