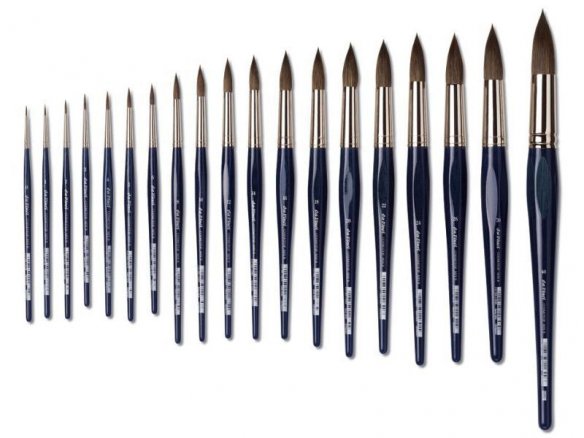 a mixture of natural hairs and synthetic fibres, seamless silver ferrule (= drawn brass tube, nickel-plated); short, blue-glazed wooden hexagonal handle, international size assortment, sizes 6-30 mm, exposed hair length is 18 to 48 mm, total length is 200 to 290 mm, protective cap, w = diameter of ferrule
Cosmotop Mix brushes are made up of a combination of natural hairs like sable, squirrel and polecat hairs together with synthetic fibres. Pure synthetic brushes do indeed have excellent "spring" resilience and good stability but as far as being able to take up a lot of paint and slowly release it again they compare badly to the more expensive natural hair brushes. A mixed tuft often leads to the problem that the natural hairs wear out more quickly than the synthetic ones. The company Da Vinci has succeeded in combining all the advantages of natural hair and synthetic hairs into one tuft: The natural hairs form the "water storage" in the body of the tuft; the extremely supple synthetic fibres are longer and extend out to form the tip. This balanced mixture found in the Cosmotop-Mix B brushes is the basis for a high-quality alternative to red sable hair brushes while being less expensive. 
The hexagonal handle, which was developed by da Vinci, has from three to six flattened areas at its thickest point that will prevent the brush from rolling away. These flattened areas are so subtle that when the brush is being used not only will your hand not tire but they will also not hinder the turning motion necessary when shaping the brush tip.
The Da Vinci Cosmotop-Mix B watercolour paintbrushes are manufactured in sizes corresponding to international standards. The worldwide standardization of the terms used to describe brush sizes has meant that some of those given by da Vinci will be different. Further below you can download a size chart that shows three different systems in comparison: the da Vinci system, the international standard system and the English/American size system (from top to bottom).
Da Vinci Cosmotop-Mix B watercolour brush, round
12 Variants