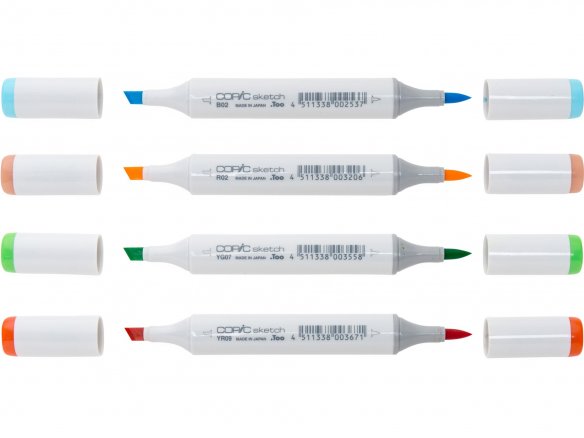 Tips

2 interchangeable tips: bevelled (medium broad) 2 - 5 mm, brush (super brush)

equipment

grey, oval plastic barrel, cap has end piece the colour of the ink
The Copic Sketch is an alternative to the Copic Marker when you are planning to utilize a brush nib. One side of the marker has a medium wide solid polyester nib and the other side has a brush nib. This nib, which is made from two different materials, is firm at the shaft but out at the end is very flexible and holds its shape extraordinarily well even after long-term use. When a nib is worn out you can simply pull it out and put in a new one by using the special tweezers.
Copic Sketch
144 Variants
Note
COPIC MULTILINER and COPIC MULTILINER SP can be used for preliminary drawings and for making outlined Copic drawings because, in contrast to standard inking pens, when they are drawn over with COPIC MARKERS they will not smear or bleed.
Accessories and Related Products