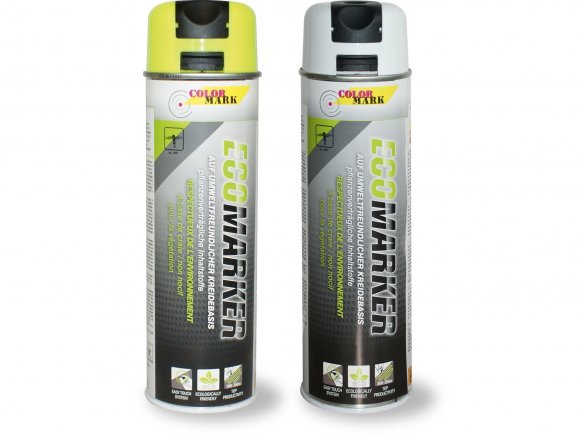 eco-friendly, chalk-based special effect spray in an aerosol can, non-permanent (washes away with water), patented one-hand safety cap with Easy-Touch release, dust-dry after 10 minutes, hazard warning: F+ (= highly inflammable)
Being able to spray chalk is incredibly practical – you can map out the position of a corpse, the original "mark" of an actor or a playing field on asphalt. This chalk is just as easy to remove as any normal chalk – however, you should note that it will only remain for a couple of days (up to weeks, depending) and will fade outdoors in areas that are frequently used or, of course, when it rains a lot. The contents of the can are environmentally safe and also safe for humans, animals and plants even in the case of direct contact (a certificate of environmental safety available upon request).
The spray can has a patented one-hand safety cap with an Easy-Touch release mechanism that guarantees you can make your marking without getting your fingers dirty! The can holds 500 ml, which is enough to make 300 to 350 metres of markings.
Colormark Ecomarker chalk spray
5 Variants