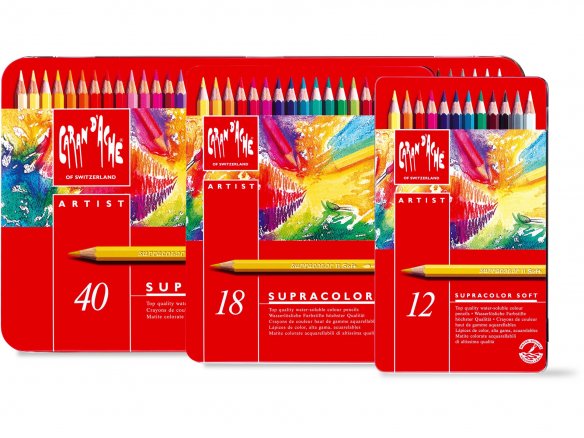 water soluble artist colour pencils, soft lead with 3.8 mm diameter, excellent coverage and brightness, high degree of lightfastness, hexagonal cedar wood barrel the colour of the lead, FSC certified, conforms to European safety norm EN 71-3 (toy safety)
Supracolor Soft aquarelle colour pencils are water-soluble colour artist pencils with very soft lead that are designed to satisfy the highest demands from artists, graphic designers and illustrators. They are distinguished by their excellent coverage ability and the brightness of their colours – along with the high degree of lightfastness of their pigments. Supracolor colour pencils are particularly suited to watercolour drawing and wash techniques – especially when large areas are involved.
Contents of the Set of 12: white (001), grey (005), black (009), orange (030), natural umber (049), scarlet-red (070), purple (090), violet (120), ultramarine blue (140), cobalt blue (160), grass green (220), lemon yellow (240).
Contents of the Set of 18: all those in the Set of 12 plus yellow (010), burnt sienna (069), carmine red (080), turquoise blue (171), malachite green (180), light olive (245).
Contents of Set of 40: all those in the Set of 18 plus light grey (003), greyish black (008), light yellow (011), green ochre (025), light ochre (032), brown ochre (037), russet (040), cinnabar red (060), reddish brown (065), reddish pink (071), rose pink (081), purple-violet (100), light violet (131), indigo blue (139), midnight blue (149), jeans blue (155), Prussian blue (159), jade (211), light green (221), fir green (339), pale blue (371), cream (491).
Caran d'Ache Supracolor watercolour pencils
3 Variants