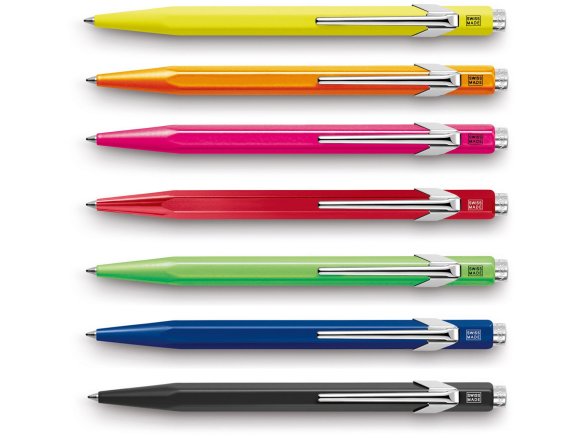 replaceable jumbo refill with metal point, archival safe ink (ISO 12757-2 DOC), metal tip, blue ink, retractable point (pocket safe), painted hexagonal aluminium barrel, silver pushbutton,
The Caran d´Ache 849, which is more of a writing utensil than a ballpoint pen, is made in Switzerland and that since 1969. The pen's refill goes by the name Goliath which is only fitting because, according to the manufacturer, it holds enough ink to fill 600 DIN A4 pages, In addition, its tip is made out of steel with a carbide ball and this assures a very soft and smooth writing action.
The Caran d`Ache 849 is very lightweight and its aluminium barrel is painted with a very durable paint. Both the pushbutton mechanism, whose light easy push is a real joy to activate, and the hardened steel clip are practically indestructible. In addition to all this, the pen has a classic look; the minimalist design includes the typical Caran d`Ache hexagonal barrel.
Caran d'Ache ballpint pen 849
10 Variants