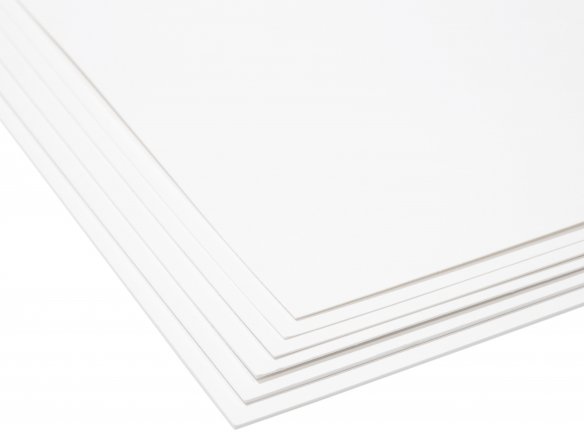 material

chlorine-free bleached pulp (TCF)
In the versions up to a grammage of 492 g/m²  Bristol board is a white board that contains no glue, but in the heavier versions up to 615 g/m² it can be a two-ply or even three-ply glued board. The board is acid-free (also not buffered) and made from chlorine free bleached pulp. Its name comes from the southern English city of Bristol where it was first produced. Bristol board in various thicknesses is often used in architectural model making because of its lightfastness and smooth white surface.
Please note: The dimensional accuracy according to manufacturer's specifications is +/- 2 mm/m. The same applies to squareness. Dimensional accuracy and squareness errors can occur at the same time.
Bristol board, bright white
9 Variants
0,25 mm
0,40 mm
0,52 mm
0,68 mm
1,05 mm
210 mm x 297 mm
297 mm x 420 mm
700 mm x 1000 mm