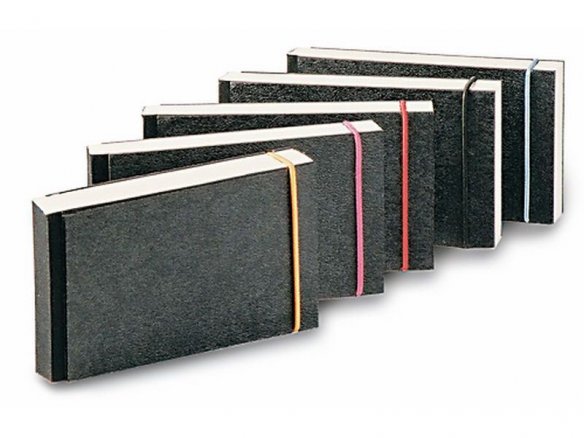 white matte paper, wood free, with perforations, thread stitch binding, black imitation leather covered cardboard cover, black linen spine, coloured elastic band fastener, groove for the band cut into the paper
The small practical details are what make this simple but beautiful sketchbook something special. The elastic band, which has a contrasting colour, sits in a groove in the paper and the cover so that it cannot slip and thereby allow the book to open up unexpectedly. Individual pages can be easily removed because they are perforated on the side. The smooth 120 g paper is suitable for drawing or sketching with all dry techniques.
Bindewerk is a small, innovative bookbinding company in Bavaria that produces, by means of handicraft techniques, a large variety of high quality writing and sketching books. It is noteworthy in this regard that Bindewerk products, despite their very high German production values, are still offered at acceptable prices.
Bindewerk sketchbook with elastic band
5 Variants