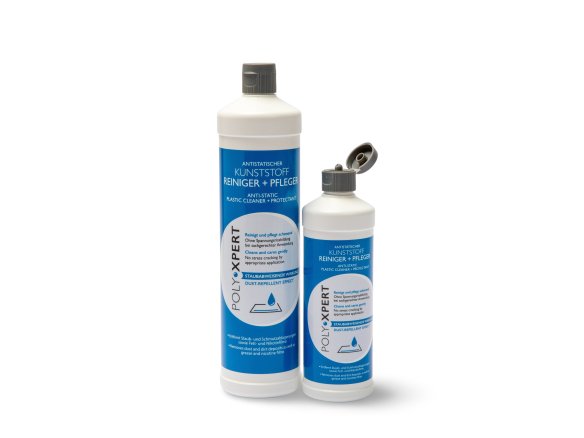 colourless, contains under 5% anionic tenside solution, alcohol and aroma; hinders static charging and dust attraction
Description
Hazard warnings
Plastics tend to develop a static charge which literally attracts dirt particles. This plastic cleaner produces a strong antistatic effect which hinders a static charge and therefore any build-up of dust or dirt. It is nonetheless very gentle on the material being cleaned. It is suitable for use on all plastic surfaces and does not produce any stress corrosion cracking. For cleaning plastic parts that are particularly soiled you should use our INTENSIVE PLASTIC CLEANER.
A soft, lint-free and absorbent cloth is best used for applying this liquid in order to avoid scratches; special application cloths like special acrylic cleaning cloth 2611 will guarantee excellent results. The cloth should be moistened as opposed to thoroughly wet with the cleaner. Any remaining moisture left on the cleaned surface is best left to simply dry in the air.
Danger, Propan-2-ol = 10 - < 15 %, (VOC-Gehalt (EU) = 0,0 %), Flam. Liq. 3, Eye Irrit. 2
Hazard warnings
H226: Flammable liquid and vapour.
H319: Causes serious eye irritation.
Safety instructions
P210: Keep away from heat, hot surfaces, sparks, open flames and other ignition sources. No smoking.
P241: Use explosion-proof [electrical / ventilating / lighting / …] equipment.
P280: Wear protective gloves / protective clothing / eye protection / face protection.
P303+P361+P353: IF ON SKIN (or hair): Take off immediately all contaminated clothing. Rinse skin with water [or shower].
P305+P351+P338: IF IN EYES: Rinse cautiously with water for several minutes. Remove contact lenses, if present and easy to do. Continue rinsing.
P501: Dispose of contents / container to …
Downloads
Antistatic plastic cleaner/care
2 Variants