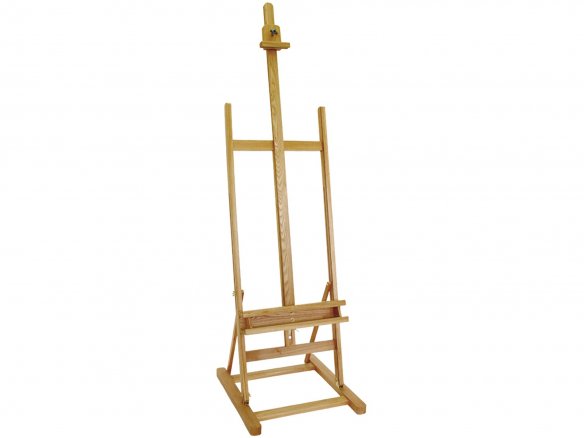 Especially stable for large canvas sizes
Controlled height adjustment via metal grid
Continuously adjustable tilt angle
With storage compartment for art supplies
Collapses flat
For working while sitting or standing
Material

Oiled beech wood

Assembled dimensions (L x W x H)

520 x 610 x max. 1820 mm

Transport dimensions

140 x 540 x 1480 mm

Weight

7.15 kg

Maximum canvas height

1400 mm

Canvas support width

440 mm
Due to its solid weight and large H-shaped foot, the studio easel is the sturdiest of all types of easels. This makes it particularly suitable for working with large canvas sizes in the workshop or studio. With a fully retracted center bar, the easel is 1820 mm high. The maximum canvas height with the adjustable canvas arm is 1400 mm.
The tilt angle is continuously adjustable and can be secured with wing nuts at the desired angle. The vertical height adjustment of the canvas is controlled by a metal grid. A side-closed storage compartment under the working surface provides space for brushes and paint tubes.
If the studio easel is to be stored away, it can be folded flat. The easel is partially pieced together before delivery for easy self-assembly.
A-frame studio easel, beechwood, d = 520 mm, w = 500 mm, max. h = 1820 mm, 7,15 kg