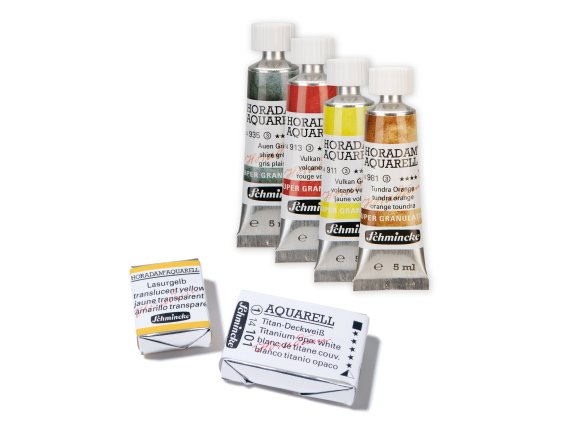 Pittura acquerellata solubile in acqua a base di pigmenti, gomma di Kordofan arabica e fiele di bue, colata liquida solida a 4 pieghe, resistente alla luce in condizioni ottimali o vetrata opaca (a seconda del pigmento), non soggetta a classificazione secondo GefStoffV, in 1/1 o 1/2 ciotole.
Horadam von Schmincke è un solido acquerello, disponibile in 110 tonalità brillanti e armoniosamente coordinate (72 delle quali monocolore). L'inchiostro affascina per la sua buona solubilità (anche dopo l'essiccazione sul pallet) e per il suo ottimale rilascio (per un gradiente di colore sempre controllabile anche su carte per acquerello morbide).
Il potere coprente di un inchiostro pigmentato dipende dallo spessore dello strato e dal pigmento utilizzato. La scala di Horadam va dalla velatura (ad es. giallo smaltato) all'opaco (ad es. vermiglio). Sebbene il colore sia relativamente resistente alla luce (a seconda del pigmento), le immagini ad acquerello non dovrebbero essere esposte alla luce diretta del sole a lungo termine a causa dell'applicazione solitamente fine e sensibile alla luce del colore. Per evitare eccessive variazioni di colore nel tempo, è possibile applicare una vernice protettiva ai raggi UV.
Gli acquerelli Horadam possono essere miscelati o combinati con SCHMINCKE AKADEMIE AQUARELLFARBE e SCHMINCKE HILFSMITTEL F. AQUARELL.
Trucco Acquerello Horadam
349 Varianti
Avvertenze
Please note that artist paints can have different prices even within a specific product group because of the different prices for the respective raw materials.