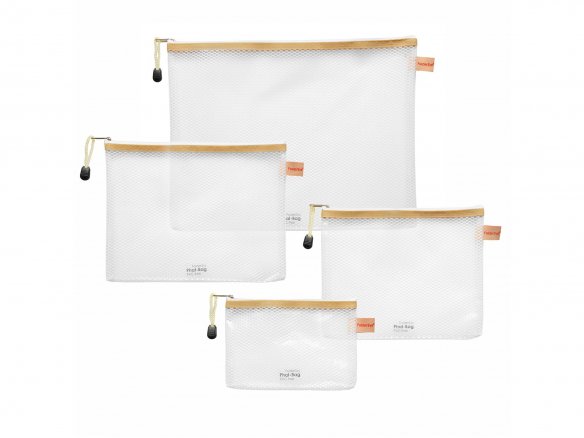 PVC-free (without plasticizer)
Food-safe
high-quality workmanship
soft, elastic, resistant
In four sizes
Material

PVC-free plastic, transparent, thickness = 0.15 mm, reinforced with fabric

Features

colored border, white textile zipper, nylon strap

Sizes

suitable for Din A6, B6, A5, and A4
There is probably almost no Modulor employee who does not use these transparent zipper pouches when traveling. In fact, it is a great way to transport the 100 ml liquid containers allowed on planes according to the hand luggage regulations.
We're pleased that the practical Phat-Bags are now also made of a PVC-free plastic, i.e., without plasticizers (phthalates) and chlorine that are harmful to health and the environment. Of course, they're still made of plastic, so for the sake of the environment, use them for as long as possible. With their fabric-reinforced and resistant material and high-quality workmanship, nothing should stand in the way.
Use the zipper bag not only to keep your luggage in order, but also in everyday life for your pens, paint, tools, drawings, documents, and much more.
Zippered transparent bag, PVC-free (Phat-Bag)
8 Variants