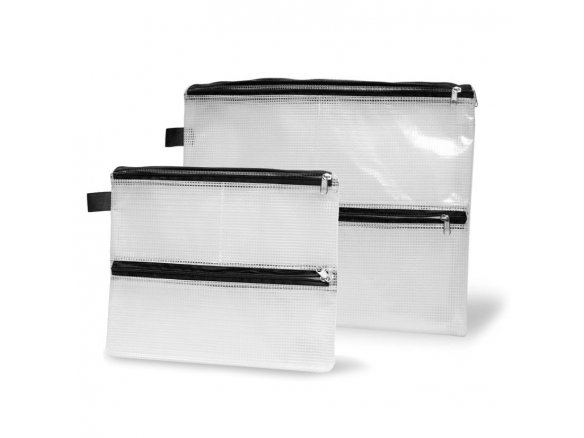 Pack (almost) everything
All-round talents for at home and on the go
material

soft PVC, reinforced with white nylon

equipment

black hanger strap, black zipper
Transparent bags are wonderfully practical as a means of storing things but having an overview. The zippers are great when traveling because they are insurance against your shampoo and shower gel leaking out into the rest of your things in your luggage bag. According to the new carry-on regulations for airplanes these bags are an acceptable way to carry the permissible amount of liquids in their 100 ml bottles. Pictures, magazines, books, folders, school supplies and blueprints will fit into the larger version of this bag for safe transport.
These zipper bags are very similar to the classic versions of these type bags but are differentiated by the fact that they have a number of separate compartments whereby, for example, one compartment can be used for small change, one for receipts and paper money or one for pencil sharpener and eraser and one for cotton swabs, and so on! The partitioning and approximate size (height x width) of the various bags is as follows:
190 x 235 mm, for DIN A5, 3 zippers, 1 compartment 190 x 235, 1 compartment 90 x 235, 2 compartments 90 x 110
250 x 325 mm, for DIN A4, 3 zippers, 1 compartment 250 x 325 mm, 1 compartment 125 x 235 mm, 2 compartments 125 x 160 mm
The two small compartments are next to each another and are opened up and closed by means of a zipper.
Zipper bag, transp. with 4 compartments
2 Variants