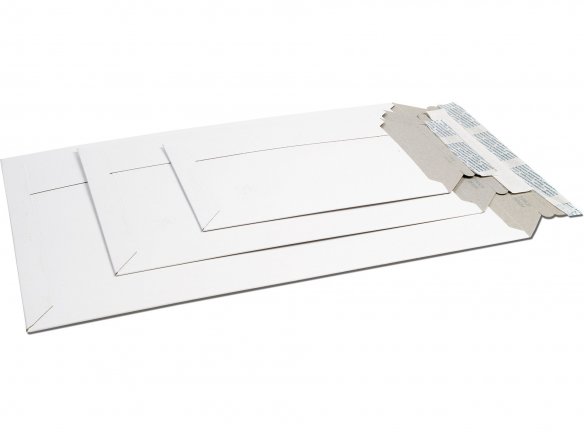 made out of white/grey duplex board UD2, 500-550 g/m², self-sealing, opens at perforation, variable filling height, max. 20 mm; weight: 52 g (DIN A5), 97 g (DIN A4), 175 g (DIN A3); given dimensions: approx. outer dimensions (l x w x h)
This especially sturdy and high quality mailer, which is made from white duplex board, is perfect for mailing brochures, business files or photographs but also for delivering goods, magazines, thin books, catalogues, etc. The long flap is self-sealing and can be easily and cleanly opened by means of tearing along the perforated line provided. In addition, the envelopes have perforated holes on the opening side which allows them to also be sealed by means of BRASS FASTENERS.
Please note that postage can be higher depending, of course, on the weight and format of the contents. The minimum and maximum dimensions and weights can be found under www.deutschepost.de. The official policy of the German post office is to demand higher postage for mail that cannot be machine read like dark or patterned envelopes and plastic covers. In fact, this really only applies to commercial mailings – occasional private customers are usually not charged. Stamped coloured standard envelopes in smaller quantities (up to 5) are accepted by the post office. Business customer mailings in larger quantities must be capable of being sorted in an automated system. For an easy and gratis Certification (of suitability) for your envelopes, please contact the post office.
Toppac mailer, white
3 Variants
Note
The outer dimensions of this DIN A4 packaging corresponds to the German post office size "Großbrief" (large letter) or "Maxibrief" (maxi letter), depending on the weight. There are certainly correspondingly inexpensive size requirements at other post offices.