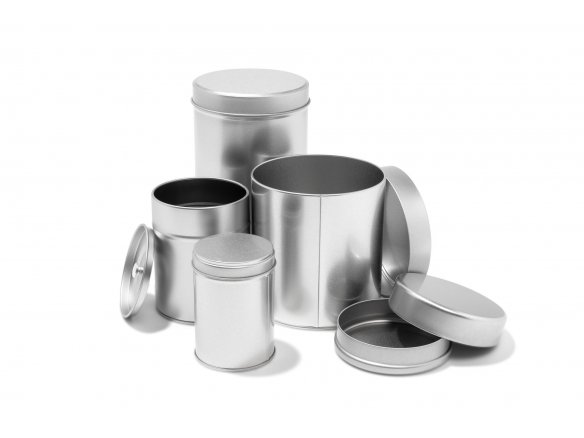 sheet steel, semi-gloss tinplate, colourless varnish, given dimensions = approx. outer dimension including the top
The round tin containers that we have on offer have a variety of lid types. Lids without a fillet (rolled rim) have a relatively sharp edge; lids with a fillet have, much like the classic tea caddy, a small curled rim that lends stability and tightness to the lid; the tapered lids are bevelled. The "aroma lid" is a double lid construction that ensures that the aromas from any stored foods like, for example, tea, will not escape.
The container for bottles, in which, for example, a bottle of wine can be given as a present in a decorative way, has a press lid which closes up very securely. The container with the rounded edges and the very high slip lid is very luxurious and can make an interesting gift package for jewellery or chocolates. The herb containers have a removable sprinkling insert with two different hole sizes for various potential contents: the small holes (ø 2.5 mm) are good for salt, pepper or pulverized herbs and spices while the large holes (ø 6 mm) are great for sprinkling things like courser herbs, for example, oregano, rosemary or even grated parmesan. The lid that serves as the cover holds very securely and hinders any beautiful aromas from escaping. The containers can be marked or identified by using pens like Lumocolor or attaching adhesive labels or using chalkboard and table top paint or chalk pens (e.g. Faber-Castell Jumbo grip for panels and paper).
All these round containers have been painted in their interior space with a varnish that is designed to be compatible with food, so things like chocolates, tea, cookies and the like can be stored in them without problem.
Tin container, round, silver
5 Variants
63,00 mm
83,00 mm
95,00 mm
107,00 mm
114,00 mm