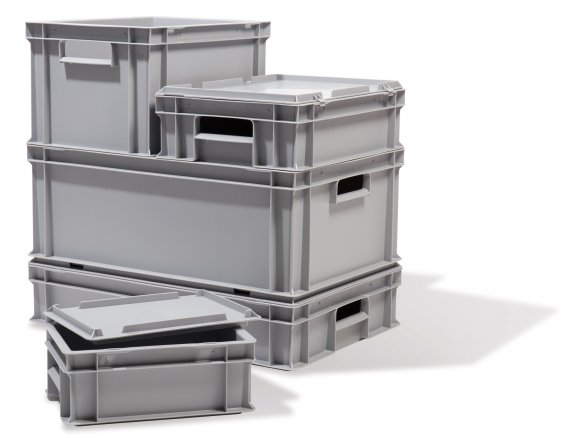 stable and stackable
suitable for food storage and much more
material

polypropylene

equipment

2 grip holes on each of the short sides

Dimensions

given dimensions: outer measurements (height x width x length)
Boxes like these are called "utility boxes" in the United States – which is hard to translate into German, which is why we call them "Stapelkiste" or stacking boxes. Injection mould boxes of this sort can be found on sale all over the place but we decided to add this version to our catalogue because of its unusually high quality – it has a really sturdy frame construction and a more than adequate wall thickness, with both these attributes providing great dimensional stability not only for the bottom but for the entire box. This accounts for the fact that these boxes are somewhat heavier but what good is a light weight box when it cannot do the job? The fact is that you can neatly load up this box with practically any kind of stuff because it is resistant to most acids and oils. Then there is the fact that you can stack them – either crosswise or lengthwise. What is meant by this is that the smaller version can be stacked on the larger version two at a time crossways next to each other if you so desire. Normal stacking is as easy as the necessary lifting!
The given stacking height is less than the given outer height measurement because the sunken bottom will "disappear" into the crate below it upon being stacked.
The inner dimensions, weight and volume of the different boxes are as follows: (Note: the volume in liters corresponds to the bearing capacity in kilograms)
300 x 400 mm box:
with stacking height of 110 mm: 115 x 266 x 366 mm, 690 g, 11 liters
with stacking height of 227 mm: 232 x 266 x 366 mm, 950 g, 23 liters
400 x 600 mm box:
with stacking height of 110 mm: 116 x 366 x 566 mm, 1165 g, 24 liters
with stacking height of 209 mm: 215 x 366 x 566 mm, 2050 g, 45 liters
with stacking height of 309 mm: 305 x 366 x 566 mm, 2930 g, 63 liters
We also have on offer two different kinds of matching lids for these boxes (one basic, one with hinge). The boxes can of course still be stacked with the lid in place (see: LID FOR STACKING BOX, GREY, SEALABLE).
Stacking (utility) box, grey, sealable
5 Variants
200 mm x 300 mm
300 mm x 400 mm
400 mm x 600 mm
Note
The boxes come without lids but they can be ordered separately.

Please note that we can only ship large quantities of this article per forwarding agency which means that there are higher shipping and handling costs.
Accessories and Related Products