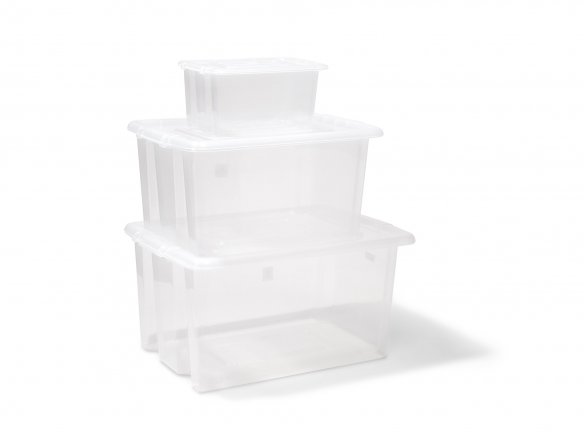 Without plasticizer
Visible from the outside
Lid can be clicked on
Can also be stacked without lid (rotary stack function)
Empty space-saving stackable (nestable)
Made in Europe
Material

polypropylene (PP)

Given dimensions

length x width x height, approximate outer measurements

Attributes

tranparent and colourless, clear

Application

for transport and storage of laundry, toys, files, tools, dishes, books, etc.tc.
Our sturdy Stack and Store boxes are made of plasticizer-free polypropylene and are great for storing and transporting laundry, toys, files, tools, dishes, books and all the other things that you do not use on a daily basis but still want to have ready at hand when you need them
These simple and straightforward boxes are transparent on all sides and have no matte finish to disturb the clarity. This means that the contents can be seen from any side, which is an important attribute that enables you to quickly locate any of your stored belongings. In addition, the Stack and Store boxes are distinguished by two further features as compared to other economically priced storage and transport boxes
Perhaps their most important advantage is their rotation stacking function. So-called turn and stack boxes have two opposing sides that have distinctly different walls that make it possible to stack the boxes one on the other without the need of a lid by turning alternating boxes 180 degrees. If you want to store the boxes in a space-saving manner when they are empty, you do not rotate them so one front is on top of the other´s backside but keep them aligned whereby they will fit down into one another (nesting"). The boxes and the corresponding lids can be ordered from us separately and in the correct "nesting" sizes - please keep this in mind when making your order.
Two handles are integrated in the rim of the storage boxes, which is cranked on all sides, so that the containers can be easily transported. The lids can be clicked on at these points - a feature that is also not usual for many competitor products at comparable prices, which are often only available with loose lids. Of course, the storage containers can also be stacked with the lid clicked on, whereby two 5-litre boxes rotated by 90° fit onto the 32-litre box and two 14-litre boxes fit onto the 52-litre Large Box. For bulk buyers we offer discounted packaging units in polybags.
Stack & Store turn and stack boxes, clear
8 Variants