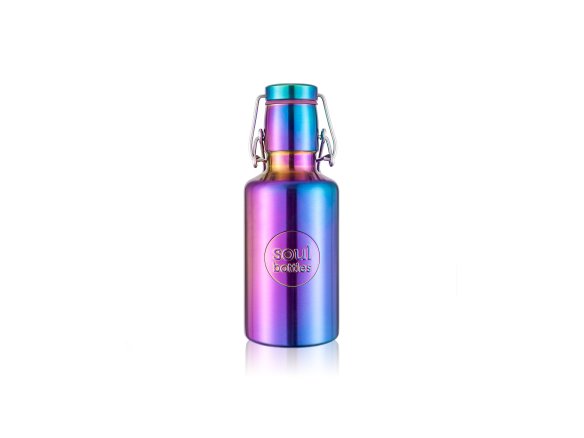 Drink 100% plastic-free and environmentally conscious
Unbreakable
Leak-proof even with carbonated drinks
Double-walled insulated
Fair to employees and producers
Material

double-walled stainless steel of quality 304, clip lock made of stainless steel, lid made of porcelain, seal made of natural rubber, removable handle made of stainless steel

Dimensions and weight

0.6 l: h = 26 cm, ø 7.5 cm, 470 g

Properties

unbreakable, leak-proof, tasteless, dishwasher-safe, keeps carbon dioxide in the bottle and in the drink, isolating hot and cold for several hours

Production

fair, climate-neutral, 100% pollutant and plastic-free
Take part. Drink tap water. From your soulbottle. This is how Soulbottles.de encourages us with these beautiful stainless steel bottles: to drink healthier and more environmentally friendly without plastic. Production is offset by "myclimate" and one euro for each bottle sold is donated to international drinking water projects. Tell everyone you know about the Soulbottles or give them away to loved ones.
Good arguments for soulbottles
1. Drink plastic-free and environmentally conscious
Soulbottles are 100% plastic-free. Its closure is made of ceramic, stainless steel, and natural rubber, so your tap water remains free of pollutants and plasticizers.
2. Your practical everyday companion
You can take Soulbottles with you everywhere thanks to their size and handle. In addition, they are 100% leak-proof, easy to clean thanks to the 29 mm opening, and dishwasher safe (exception: the versions with gold or silver print).
3.Made in Germany - with love from Berlin
Soulbottles are produced in Germany and assembled in Berlin. The production is fair, transparent, and 100% climate neutral. Any CO2 emissions that arise are offset with myclimate.
4. Clean drinking water for everyone
If you buy a soulbottle, 1 € goes to the WASH project (Water, Sanitation and Hygiene) of the Hamburg organization Viva con Agua St. Pauli eV and Welthungerhilfe.
Soulbottle Drinking bottle with handle, stainless steel
2 Variants