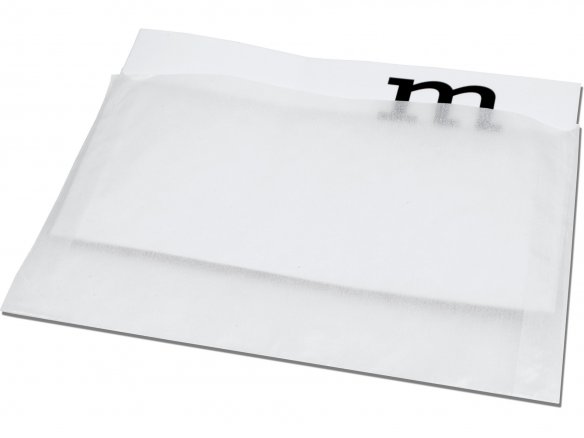 material

bleached glassine paper, 40 g/m² (50 g/m² for DIN A2 and DIN A1 sizes)

equipment

two flat pouches (glued on both long sides), opening on the width side has small overhang (DIN A1 and DIN A2 have no overhang)
Even in our digital age, we still come upon situations where we need the right sheet protector for transporting, archiving or giving gifts. The glassine sheet protectors that we carry are the ones also used by photo and copy shops as a means to protect their end products. The large size sheet protectors make the often difficult job of transporting or archiving large drawings or prints that much easier.
These flat sheet protectors are designed for use with individual photographs or sheets of paper but they can also be used to enclose stacks of media up to 5 mm in height. The overhang at the opening, which can be between 4 and 10 mm, serves mainly as an aid to paper insertion but, in cases where the contents do not reach to the top, it can also be folded over to make a flap.
Glassine paper is suitable for archival storage of photographs, negatives, drawings and documents because it is made from pure cellulose and is pH neutral, chlorine-free, and acid-free as well as anti-static and free of plasticizers. It can be discarded with your waste paper and is also completely compostable.
Sheet protectors, glassine, translucent, coloured
8 Variants
155 mm x 105 mm
190 mm x 135 mm
250 mm x 188 mm