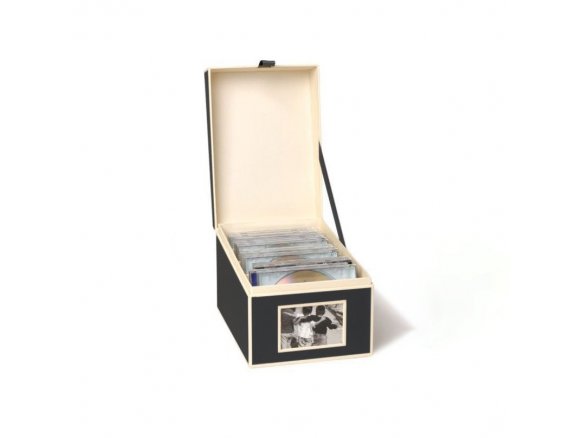 the hinged top and the box are sturdy cardboard (th = approx. 3.0 mm), exterior and interior covered with matte, film-coated paper; exterior is colour printed, interior is cream white, repp band, 3 movable index cards to mark off the separate compartments, for CDs, DVDs or photos up to 10 x 15 cm, comes with labelling field (window is 90 x 60 mm), given dimensions are the approximate interior measurements (h x w x l)
This robust CD and photo box is the ideal place to store photos, cards, CDs or DVDs – it is not only practical but, with its coloured paper covering and cream coloured borders, looks snazzy as well. The box has three partitions that can be positioned where you want in order to create four compartments. The top is opened by means of a loop made of a matching coloured ribbed ribbon and a similar band holds the top open so that it will not fall completely over backwards. The front side has a window where you can put a cover picture or a label.
Semikolon CD and photo box
7 Variants
Note
Semikolon photo boxes are only available in our store.