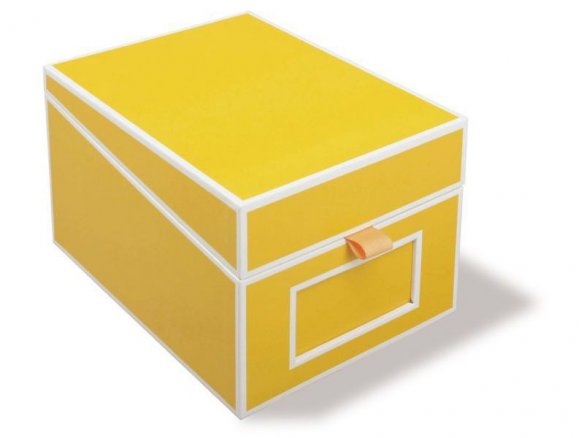 holds about 500 business cards (max size: 65 x 90 mm), hinged lid and bottom made of sturdy cardboard (th = ca. 3.0 mm), interior and exterior laminated with matte paper, colour printed exterior, interior is cream coloured, coloured grosgrain ribbon, 3 dividers, 24 index cards from A-Z, with labeling field area on front (size: 27 x 57 mm), given dimensions = approximate inner measurements h x w x l)
The colourful paper lining of the Semicolon business card box with its cream coloured borders makes it a real eye-catcher on any desk. The box has three dividers (making 4 compartments) and an index with 24 cards (A-Z), which makes it possible to collect and archive all kinds of different business cards. The lid is lifted by means of a loop made of matching coloured grosgrain ribbon and held open by a similar ribbon that prevents the lid from falling over the back of the box. On the front panel of the box a framed area has been created for holding a picture or label.
Semikolon business card box with index, cardboard
8 Variants
Note
Semikolon business card boxes are only available in our store!