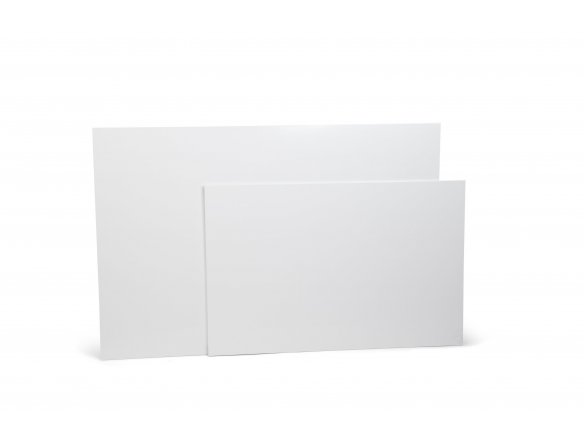 Especially useful as a writing board
Whiteboard marker ink very easy to wipe off
Maximum reduced design
Can be assembled on push
Including support rail
Material

sheet steel, folded, magnetic

Surface

white polyester coating (RAL 9016 traffic white)

Effective dimension

750 x 1150 mm or 1000 x 1500 mm

Material thickness

10 mm

Availability

portrait and landscape

Equipment

including an optionally mountable white support rail and assemblage kit for wall assembling as well as a drilling template
Good to know: Please remove the easily overlooked protective film before using the board for the first time.
The two whiteboard varieties Skin Pro and Skin Standard only differ in their surface finish:
The Whiteboard Skin Pro is sealed with a special, very smooth polyester layer (RAL color traffic white). This ensures that your whiteboard marker ink can be wiped off the surface very well. We recommend the Pro version if you use your board mainly as a writing board. On the other hand, we recommend Skin Standard with its pure white painted surface if you want to use the surface primarily as a magnetic board to organize and as a writing board only occasionally.
Additionally, Rocada's skin boards stand out from other whiteboards because of their minimalist design. They are frameless and are attached to the wall with magnets. You can therefore mount several boards side by side on the push and have a large, continuous work surface. Otherwise, you can set the Rocada boards with different surfaces directly to each other: Skin Pro for writing, Skin Standard for organizing with magnets and the Skin Chalkboard as a board. Furthermore, magnets are included inthe delivery for assembly a drilling template and a screw set including dowels.
The backplate for placing flipcharts or dropping pegs attaches them on the back side (only when needed) so that no noticeable holes will disturb the plain appearance of the boards if you do not mount the rail.
The whiteboard Pro is sealed with a special polyester layer on which you can use all standard whiteboard markers. The coated, very smooth surface can then be wiped dry very easily. After intensive use, however, we recommend wiping the board damp with a special, alcohol-based panel cleaner suitable for cleaning whiteboards (do not use household detergents or solvents such as gasoline, acetone or turpentine!).
From our experience we give you the following advice for using the whiteboard:
Clean the board immediately after use. It is better to take a picture of the board than to leave writing on the board for days. After prolonged drying (plus any photochemical reactions), it is difficult to remove shadows ("ghost images") after cleaning.
If possible, do not use different pens to write over texts. Writing over sketches or notes already made on the board can lead to more difficult residues on the board in the mix of different colors or marker types.
Only write on the board with markers specifically called "whiteboard markers"! Other "non-permanent markers" are not suitable.
When using a board wiper for dry cleaning, replace the cleaning felt in good time. Otherwise, the wiper smears more than it wipes away. In addition to using a board wiper, periodically use a moist felt to clean the board.
Do not use microfiber cloths for cleaning. Microfiber cloths have an abrasive effect and leave very fine (invisible) scratches on the surface, into which color pigments run during the next application of paint. This makes the color pigments very hard to remove.
Rocada Whiteboard Skin Pro magnetic
2 Variants
750 mm x 1150 mm
1000 mm x 1500 mm