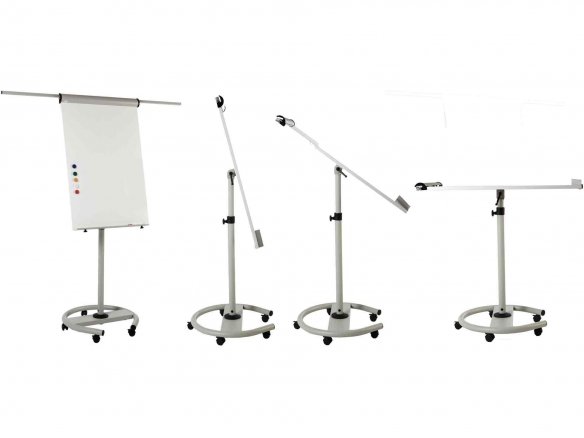 white, powder-coated surface, magnetic, integrated marker storage area, single leg stand, stable round floor base made of steel tubing (diameter is 45/50 mm) with 5 lockable casters, extended height adjustment (1450-2000 mm), allows for work while sitting, suitable for children and young adults, can be used as a table or clipboard or flipchart holder, two paper holders that can be extended from the sides of the flipchart at the top, total height is 2000 mm, TÜV SÜD certified as safe; given dimensions: size of the writing area (w x h)
This professional quality flipchart offers much more than most other flipcharts on the market. Its clever adjustability and its ability to be used as a flipchart holder together with its extremely robust construction led us to happily add this model to our product assortment.
At the top of the writing area there is a quick-change clamping system which can hold all conventional Flipchart pads. Five lockable casters allow, on the one hand, the flipchart to be rolled out of the way quickly, while on the other hand providing a solid base for the writing board. The ergonomically shaped base enables the user to maintain the correct posture when working. The powder coating of the board area provides a great surface for writing and erasing. One further advantage of this flipchart model is that its height can be adjusted such that the writing area can not only be used by someone in a standing position but also in a sitting position as well - or by children or young adults. A further advantageous feature is the tilting mechanism. When tilted in the horizontal position, the flipchart becomes a table or tray, a feature that facilitates the production of documents or provides an appropriate place for a beamer.
Previously prepared charts or tables can be attached by means of magnets to the two integrated extension rods that can be pulled out both to the right and to the left of the writing area so that the viewing area presented to the audience is increased immensely.
Two important tips: It is important to thoroughly clean the writing area before using it for the first time. For that job, it is best to use a cleaner spray designed for use on whiteboards because varnished writing areas are particularly sensitive to unsuitable cleaning solutions. It is advisable to perform this cleaning on a regular basis because any foreign matter will thereby be removed and, in addition, the natural wearing process whereby a general haziness develops will be avoided.
Rocada Flipchart professional, 680 x 1040 mm, grau