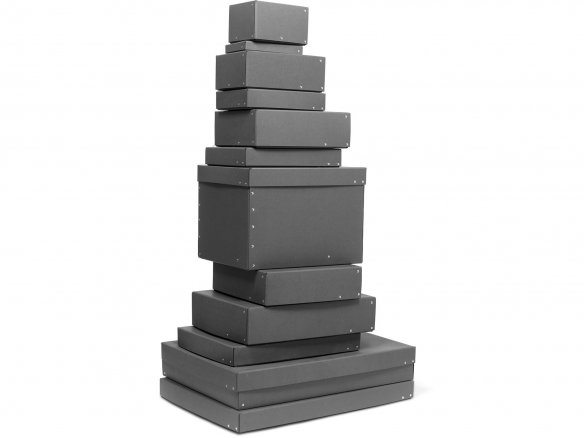 anthracite coloured cardboard lid and box (th = approx. 1.2 mm), without recessed grip, riveted with silver rivets (delivered put together), given dimensions = approximate inner dimensions (h x w x l)
Everyone knows, or has seen, the dark boxes that are used for storing and sending the large reels of film used in movie theatres. But these anthracite coloured boxes have more uses than that: they are great as a means of producing general orderliness and tidiness in an office or artist studio or just in your room. The smallest version is exactly the same size as a standard postcard but can also be nicely used for the standard photograph size of 10 x 15 cm. The 280 x 310 x 380 mm version works really well with the popular Ikea shelving unit Expedit just like the flatter square version that can be stacked in threes in the separate compartments (they do not, however, take up all the space front to back).
The height of the slip (hooded) lid is the same as the height of the box unless otherwise described in the accompanying text.