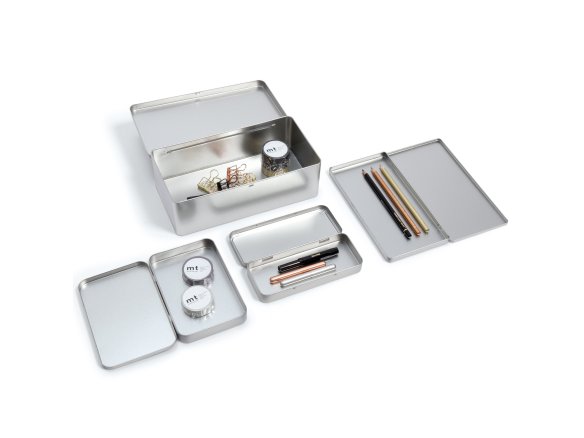 material

sheet steel

Dimensions

given dimensions = approx. outer measurements including lid (l x w x h)
The dimensions of some of our rectangular tinplate containers are based on specific uses. The pen container, for instance, can replace the case in which the pens originally came. The containers with the DIN dimensions, on the other hand, lend themselves to storing paperwork with sizes up to the given dimensions of the boxes themselves as, for example, photos, letters and stationery. They are also perfect for use in individual mailings. It should be noted that a DIN A6 sized paper is a very tight fit in the DIN A6 container because the corners of the paper push up against the rounded corners of the container.
With the addition of an insert made from one-sided Fine-Corrugated Board, the boxes can be transformed into great containers for storing coloured pencils or pens - the flat A5 container is particularly suitable for this purpose. Beyond that, the tinplate containers can be used to store dried foodstuff, as gift packaging, etc.
Rectangular tinplate container, silver
11 Variants
12 mm
13 mm
16 mm
17 mm
22 mm
25 mm
42 mm
75 mm
48 mm x 60 mm
76 mm x 181 mm
95 mm x 100 mm
120 mm x 230 mm
126 mm x 187 mm
133 mm x 216 mm
158 mm x 220 mm
160 mm x 220 mm
220 mm x 310 mm
Note
Please note that because of the rounded corners the actual usable area of the boxes will be reduced.