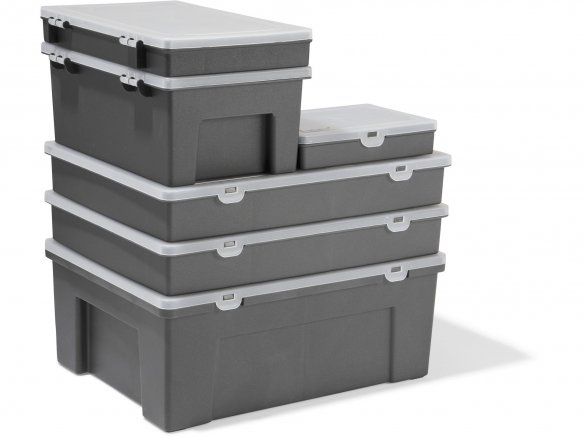 Versatile use
Without plasticizer
Visible from the outside
Hinged lid with click closure
Very good quality - nevertheless inexpensive
Good stackability
Made in Europe
Material

polypropylene (PP)

Given dimensions

width x depth x height, approx. outer measurement

Attributes

dark grey with colourless, transparent lid

Applications

for small wares and notions as well as small articles like screws, pearls, angling accessories, Lego pieces, jewellery, etc.
This dark grey assortment box with a transparent lid is made of polypropylene, which is a sturdy, good recyclable plastic. Its lid closes securely and easily and the injection moulded dividers assure that the sorted small parts will remain in the compartments in which they were stored.
The colourless and transparent lids of these "handy organizer boxes" make it easy to see all the contents inside which is especially useful if multiples of these assortment boxes are being used. Boxes with the same base area will stack nicely without slipping or sliding because the lid has grooves into which the feet of the upper box fit perfectly. If you are in need of a number of these boxes you should check out the very economically priced packaging units that come in cardboard boxes.
We have these small-part boxes available in different sizes and versions. Flat boxes with small, identical compartments are, for instance, great for things like pearls or any of the other tiny parts used in jewellery production. The medium sized boxes make great sewing cases or serve well for sorting handicrafts articles or items used at your workplace desk like paperclips, etc. The version with high walls and large compartments are often used by craftsmen and artisans for, e.g., screws and other fastening hardware. Things like Lego pieces, hairclips and hair clamps, electrical components, jewellery as well as angling accessories can all be stored in an organized manner in these boxes. The fact that these boxes are also food and dishwasher safe only adds to the numerous possibilities of their use.
Some of the boxes have a mixture of larger and smaller compartments which makes them useful for storing or transporting tools together with the small parts that may be required for a job. The boxes with inserts are particularly suitable for this purpose. Because such boxes have space under the insert for your tools, it is easy to see how well they can function as a sewing or fishing box. In addition, we also sell boxes that have a DIN A4 sized compartment next to other smaller ones. These boxes can be nicely used for an artist´s painting utensils and supplies while the flat, square box with 4 elongated and 4 very small compartments is obviously predestined for carrying styluses and drawing ink pens or artists´ knives and blades.  
PP sorting box, grey, rectangular
4 Variants