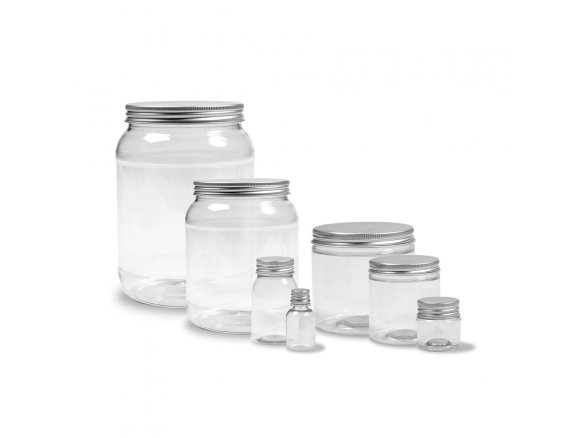 material

PET

capacity

600 ml, 100 ml and 1500 ml jars with inner lid (labelled with inner diameter)
These are crystal clear, high quality jars that can be closed up airtight. Because polyester has such great attributes (streak-free transparency, break resistant, low level of CO2 permeability) these jars are extremely versatile: depending on the size of the opening they can be used to hold very low viscosity liquids (bath milk), pastes (bath creams) or granular materials (bath salts). When away from the bathroom, these containers can be used to store self-mixed paints and pigments, for small items around your desk or for holding foods of all kinds.
These plastic jars come with an aluminium screw cap that is easy to screw on; the three crucible-shaped containers have an additional inner lid (marked with the inner diameter) that prevents the contents of the jar from coming in contact with the aluminium lid and the screw threads and serves thereby to avoid the eventuality of the lid sticking shut.These plastic jars are also available in larger amounts at a discounted price. If you don´t see the size you want, please contact us directly. When bought separately, the lids are attached; when ordering a full carton, the lids will be separately packed.
Plastic containers, transparent, with alu screw top
13 Variants
1 l
1,5 l
20 ml
50 ml
79 x 1 l
100 ml
250 x 50 ml
250 x 100 ml
250 ml
300 x 20 ml
300 x 250 ml
600 ml