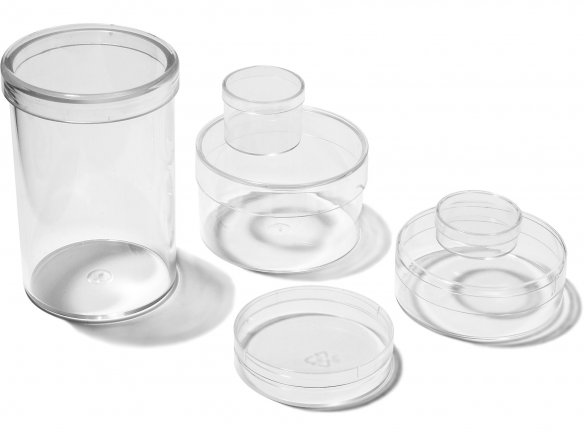 material

polystyrene

design

letters in ( ) see information text
These small crystal clear boxes are incredibly practical when it comes to storing all the little things in the office or at home like hair clips, jewelry, writing utensils or handicrafts accessories without having to ask yourself which box contains what.
For this reason, and because the boxes also make great packaging for shipping advertising materials, Modulor makes the boxes available in either individual units or large amounts. The boxes are delivered put together.
The boxes have different types of lids. The various styles of lids are indicated in the article line of description by different letters in parenthesis: (O) stand for overlapping slip lid; (F) stands for a lid that is flush with the box; (S) means that the lid and bottom are so constructed that the boxes can be stacked.
Plastic containers, transparent, round
9 Variants
40,00 mm
70,00 mm
79,00 mm
85,00 mm
13 mm
15 mm
30 mm
50 mm
110 mm