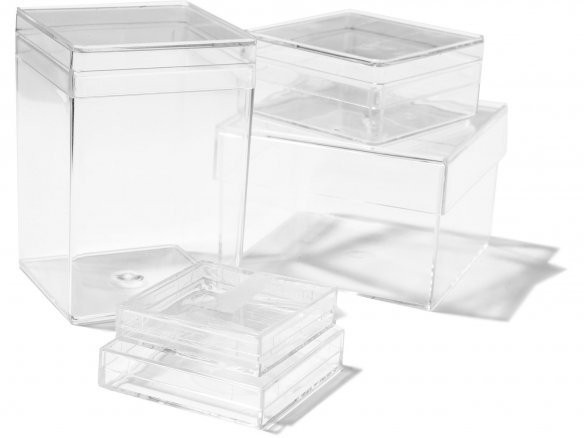 polystyrene, injection moulding, colourless, glossy, with lid, without European standard holes for hanging, given dimensions: outer l x w x h (inner dimensions are 2 or 3 mm smaller); different lid types are indicated by a letter in parenthesis (see information for key)
Whether for pearls, pendants, pins, paperclips, bonbons or rubber bands - the uses for these small practical containers are endless. Because you can always see what is in them, these boxes can be kept stacked one upon the other without causing confusion in the kitchen, the office or the bathroom.
At Modulor the boxes are available individually or in large amounts so that all the little things at home can be safely stored or giveaways can be packaged in a presentable way. The individual as well as the packaging units of the boxes have been put together for delivery.
The boxes have different types of lids. The various styles of lids are indicated in the article line of description by different letters in parenthesis: (O) stands for overlapping slip lid; (F) stands for a lid that is flush with the box; (S) means that the lid and bottom are so constructed that the boxes can be stacked.