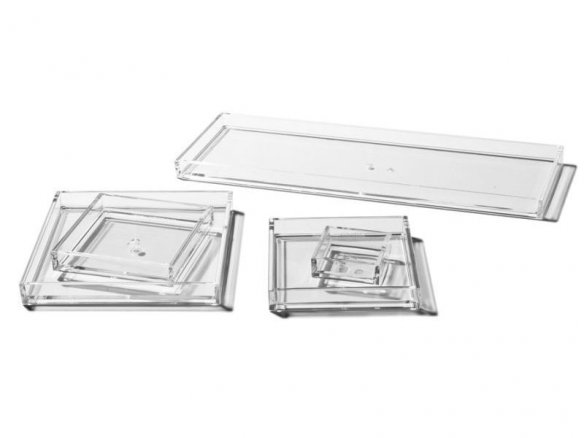 high quality polystyrol injection mould, glossy, striation-free, given dimensions: outer measurements l x w x h (inner measurements are generally about 10 mm smaller), wall thickness = 5.0 mm, designed by Ristomatti Ratia (L-02, L-04, L-10, P-12), Arni Aromaa and Sauli Suomela (P-14)
We have on offer the appropriate trays to match the PALASET PLASTIC BOXES. They, too, are produced by means of an injection mouldiing process using polystyrol whereby a very high quality product results. The highly transparent plastic shows absolutely no striations, the edges are proportionally sharp and the trays, with their 5 mm thick walls, look like they might have been made from polished acrylic glass or even real glass.
The small trays are particularly suitable for holding all the bits and pieces at a workplace while the larger ones can be used for organizing the desktop especially when used in combination with the small trays and boxes. In addition, the small trays also serve as tops for the matching PALASET PLASTIC BOXES (L-02 for P-02, L-04 for P-04, L-10 for P-10).
Palaset plastic trays, colourless
3 Variants