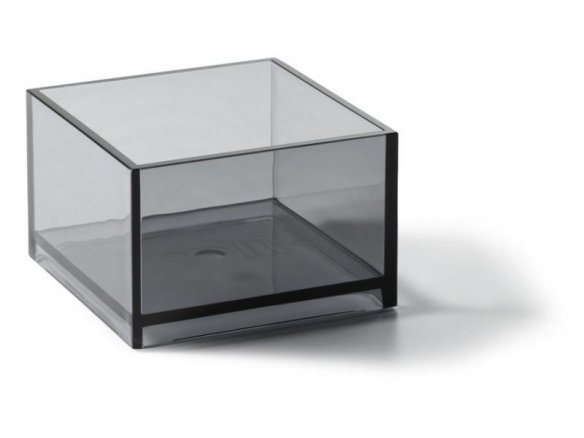 high quality polystyrol injection mould, glossy, striation-free, without top, given dimensions: outer measurements l x w x h (inner measurements are generally about 10 mm smaller), wall thickness = 5.0 mm, designed by Risomatti Tatia (P-02, P-04, P-10), Marcus Ahlroth (P-20)
The coloured Palaset plastic boxes are produced by an injection moulding process utilizing polystyrene. This process achieves an unusually high quality: the highly transparent plastic shows absolutely no striations, the edges are proportionally sharp and the boxes, with their 5 mm thick walls, look like they might have been made from polished acrylic glass or even real glass.
The pen holder P-02 keeps all pens, brushes, etc. in good order on the desktop; smaller objects can be stored and well arranged in the minibox P-04; the multi-functional CD box P-10 can hold 12 CDs while the stackable CD/DVD box can hold 19 CDs or 9 DVDs respectively. The smaller boxes can be loosely sealed by simply employing the PALASET PLASTIC TRAYS as tops. In doing so, the trays should be positioned with the top side up (L-02 for P-02, L-04 for P-04, L-10 for P-10).
PALASET PLASTIC TRAYS, COLOURLESS can be used as tops for the plastic boxes.
Palaset plactic boxes, coloured, mini-box P-04
4 Variants