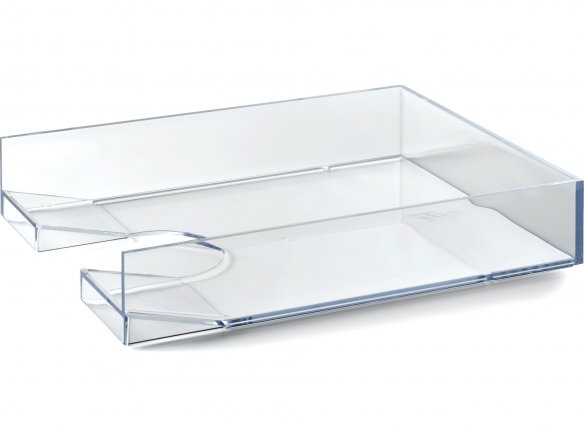 closed on three sides, one side open and has a cut-out for gripping purposes, can be stacked vertically and offset, for DIN A4 documents, high quality injection moulded polystyrene, glossy, striation-free; given dimensions are the outer measurements (inner ones are about 10 mm less), wall thickness is 5.0 mm; design: Ristomatti Ratia
Palaset desktop accessories are all made by means of an injection moulding process using highly transparent polystyrene and are of the highest quality. The plastic is completely striation-free; the edges, it must be said, are relatively sharp.
With the high polished look of these transparent document trays you will always be able to see what you have stored for later – if you are working with top-secret documents an opaque document tray would probably be a better choice. If the volume of documents becomes very large or you need more space for storing any number of different things, you can easily stack these Palaset trays (offset or vertically).
Palaset P-09 document tray
5 Variants