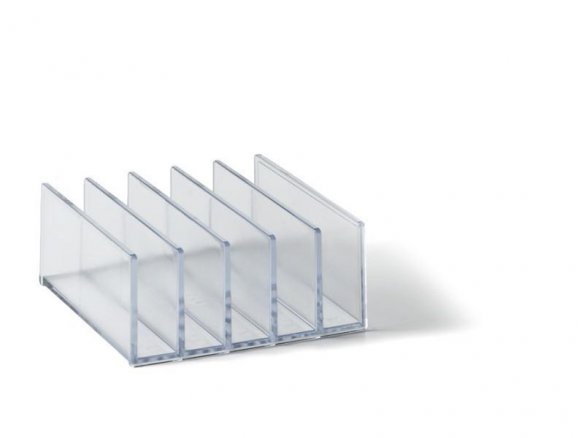 five compartments, high quality polystyrene injection mould, glossy, striation-free, rounded corners; given dimensions are outer measurements (inner one are about 10 mm less), wall thickness is ca. 3.0 mm; design: Ristomatti Ratia
The transparent Palaset letter racks are manufactured in a polystyrene injection mould process. This produces a very high quality product: the highly transparent plastic is completely striation-free whereby the trays end up looking like they are made of acrylic glass or even glass itself.
The P-05 letter rack has 5 compartments, each having a capacity of about 20 mm and is not only great for storing or sorting letters, bills and notes but can be used as a napkin holder as well!
Palaset P-05 letter rack, 130 x 130 x 55 mm, transparent, colourless