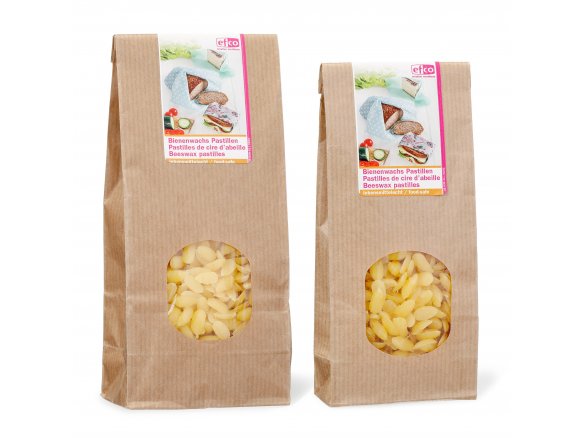 Make your own naturally antibacterial bee's wax towels
From Germany
Contents

100% pure bee's wax, unbleached, without additives

Melting point

149°F (65°C)

Suitable for

cosmetics, bee's wax towels, furniture care, candle making
Everything that you make out of the bio bee's wax pastilles smells deliciously like honey: candles, salves, or your home-made bee's wax towels.
For the environmentally-friendly alternative to plastic wrap, you can flavor the cotton fabric (for ex. Patchwork Family Druckstoff in great patterns) with the edible, melted wax pastilles. You will find out how to do it our DIY magazine Make your own bee's wax pastilles. You can use the sustainable towels again and again for wrapping up cheese, vegetables, and packed lunches, and also for covering dishes or bowls. Bee's wax is naturally antibacterial which is why bee's wax towels are sanitary, and it is enough for you to clean them with luke-warm water and maybe a little dish soap.
Good to know: Bee's wax is produced by worker bees for the construction of honeycombs. After the removal of the honey, the wax is extracted through the process of the beekeeper melting down the honeycomb and cleaning the wax. In order to produce 17.6-28.2 oz (500-800 g) of wax, a bee colony has to work for an entire season. Kudos.
Organic beeswax pastilles, food quality
2 Variants