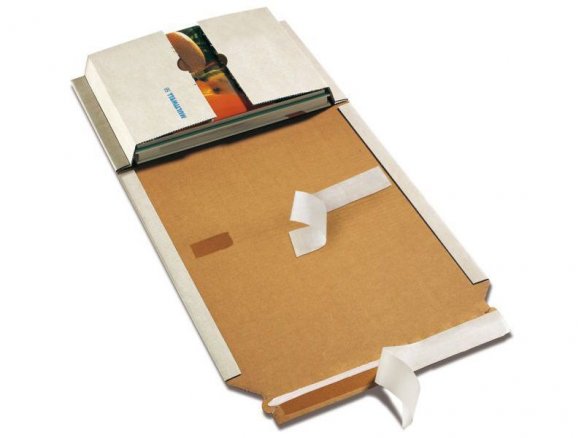 folder package with variably adjustable capacity and extra security strip against package tampering, made from fine corrugated board white/brown (outer layer 1: white testliner 120 g/m²; fluting layer: brown corrugating medium 105 g/m²; outer layer 2: brown testliner 120 g/m²), with reinforced edges and side flaps, self-sealing, opens by tearing at perforation; weight: app. 150 g, given dimensions: approx. inner dimensions (l x w x h)
This sturdy universal packaging, which is made out of completely recyclable corrugated board, is perfect for mailing books, catalogues and magazines as well as video cassettes, gifts, etc. By virtue of both the variable filling level resulting from the adjustment of the side flaps, and the edges that are reinforced all the way around, this packaging can be made to exactly fit its contents as well as provide shock-resistance without having to add any additional filler material. In this way, volume and weight and, of course, postage are cut down to the lowest possible level.
It is possible to fill the packaging both quickly and easily: stabilizers hold the side flap open at a 90° angle, making for problem-free loading. After the sides have been folded into place, the package is then folded twice and finally closed up by means of the self-sealing strip, thereby eliminating the need for further adhesive tape.
An extra adhesive strip (security closure) can be used if necessary to fasten the side flap. The package contents can no longer be removed without damaging the package – any tampering or theft is all the more difficult.
The "tear here" perforation makes the subsequent opening of the package extremely easy.
Multiwell mailer, white, 325 x 250 x 20-75 mm, for A4+
Note
The outer dimensions of the packaging correspond to the German post office size "DHL Päckchen" (small parcel) or "DHL Paket" (parcel), depending on the weight. There are certainly correspondingly inexpensive size requirements at other post offices.