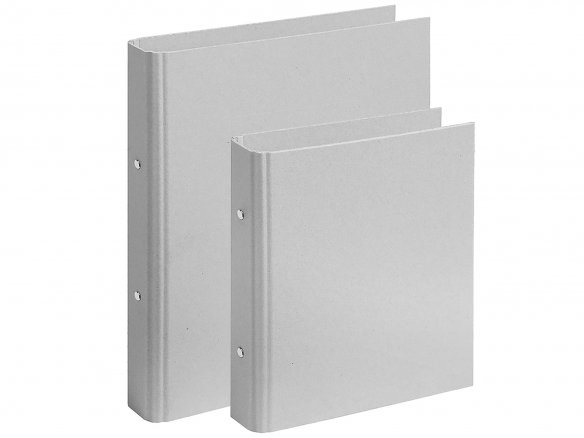 Minimalist, industrial aesthetics
Ideal for self-design
In A5 format, a practical solution for menus
Material

gray cardboard (thickness = 2.3 mm), unbacked

Size of open format

410 x 230 mm (for DIN A5) or 540 x 315 mm (for A4)

Construction

cut, doubly grooved back, riveted in the back visible from the outside, without wire holder

Ring binding

2-ring mechanism, 25 mm diameter
The Modulor ring binder made of gray cardboard has a stable 2-ring mechanism and is suitable for quick filing of paper. It's convincing not just because of its solid processing. With its simple design of raw gray cardboard, the Modulor ring binder fits into every minimalist shelf and acts as part of the decor. The days in which you had to hide your folders in the closet are finally over. 
But also, with individualists and DIY friends, the Modulor ring binder gray board is very popular. Acrylic paint, adhesive film, cool tapes, stamps, or colorful stickers – when designing your Modulor ring binder, you can let off steam until your heart's content.
By the way: This ring binder is also great as a menu for every bistro, restaurant or café!
Modulor ring binder, greyboard
2 Variants